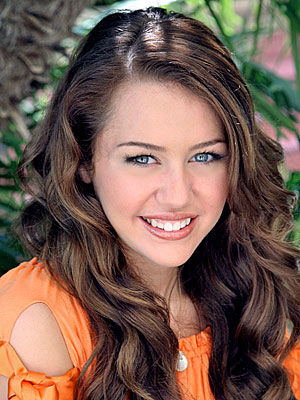 Miley Cyrus Profile
Birthday: November 23, 1992
Age: 18
Sign: Sagittarius
Birthplace: Franklin, Tennessee
Hometown: Los Angeles, CA
Big Break:
Hannah Montana
Miley Cyrus Biography
American actress and singer Miley Cyrus was born Destiny Hope Cyrus on November 23, 1992 in Franklin, Tennessee. She is the daughter of country singer Billy Ray Cyrus. Miley began acting at the age of nine, appearing as a guest star as the television series Doc. She made her motion picture in Tim Burto's Big Fish in 2003.
Miley's big break came when she was cast as Hannah Montana. The show was an immediate hit on the Disney Channel and Miley Cyrus parlayed her television success into a lucrative music career. She released her first album, Hannah Montana on October 24, 2006. Tickets to Miley's concerts have sold out immediately. Miley reportedly earned $18.2 million in 2007. The sky is the limit for the Miley Cyrus brand.
Did you know…
* Miley's godmother is Dolly Parton
* She's a vegetarian, but doesn't eat anything green
* Her favorite scent is vanilla
* Her favorite stores are Nordstrom and Hollister
* Miley is afraid of spiders
* She bites her nails
* She started riding horses at age 2
* She loves Chinese food
* She is a born-again Christian
* Miley caused a lot of controversy for posing provocatively for Vanity Fair